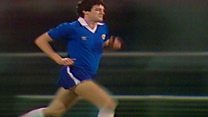 Video
Cardiff City ex-player with dementia 'gave life to the club'
The family of former Wales international and Cardiff City defender Keith Pontin, who was diagnosed with dementia at 59, said ex-players are being "forgotten" by the authorities.
His wife Janet, 52, from Pontyclun, said she is proud of his career but says she now "looks back and thinks was it worth it?"
The family is convinced his condition is linked to his career which included almost 200 appearances for the Bluebirds in the 1970s and '80s.
The PFA say the issue has been on its agenda for the last 20 years. The union provides support and a practical guide to living with dementia for former players and their relatives or carers.
The FA of Wales said recent findings warranted further detailed research.
But Janet said more needs to be done.
Go to next video: Dementia in football: Shearer has MRI scan