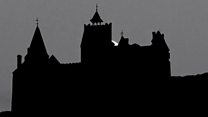 Video
VampFest: The Welsh duo uniting vampire fans in Transylvania
A vampire festival in Transylvania that was founded by two men from Wales has been attended by horror fans from around the world.
The third International Vampire Film and Arts Festival - also known as VampFest - has taken place in the ancient citadel of Sighisoara in Romania.
Peter Phillips and Craig Hooper created the event that celebrates gothic and vampire culture with film screenings, art performances, book readings, workshops, seminars and parties.
Go to next video: Byzantium toughens up vampire genre