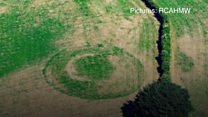 Video
Crop marks reveal ancient sites in Wales in heatwave
More long lost settlements have been found across Wales as outlines emerge as crop marks in the heatwave.
An unknown Celtic site has been discovered in the shadow of a castle ruin near Tywyn, Gwynedd, according to aerial archaeologist Dr Toby Driver.
And Prehistoric settlements have emerged in Monmouthshire along with a suspected Roman fortress.
The Royal Commission on the Ancient and Historical Monuments of Wales (RCAHMW) has released photographs from the recent discoveries.
They will prompt further research on the ground in the months to come.
"All around Wales we are adding in new bits of history," said Mr Driver.
Go to next video: Reservoir gives up its secrets