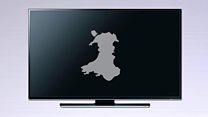 Video
TV viewing figures in Wales on the decline
Broadcast TV viewing figures in Wales fell for the fifth consecutive year as more and more people start to watch their favourite shows online.
The average viewer spent 3 hours 42 minutes watching television in 2017 - a fall of 17% since 2010, according to Ofcom Wales.
Children aged four to 15 watched TV for just 1 hour and 31 minutes each day, but use of websites such as YouTube and streaming services including Netflix and Amazon Prime Video, increased by 33%.
The most watched programme of the year was Wales v Ireland in the Six Nations, which attracted more than 800,000 viewers.
Go to next video: YouTube says it's doing more to protect kids