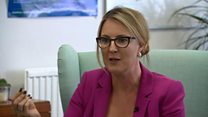 Video
M4 relief road: 'Credible alternatives' in public transport
Ministers have been urged to think of "shiny new" public transport projects instead of a new M4 relief road.
Future Generations Commissioner Sophie Howe has published a report which claims that the proposed £1.4bn road around Newport will eventually become congested with thousands more cars using the motorway.
She says if rail and bus alternatives were more viable, it would encourage people out of their cars.
The Welsh Government said it was already committed to a better rail system through £800m investment in the new all-Wales franchise.
But Ms Howe - whose duty is to monitor the impact of projects on our future health, economy and environment - said delivering the final phases of the South Wales Metro and better local transport would be a 21st Century solution - and more roads were not the answer.
Go to next video: Plaid AM calls for M4 relief road vote