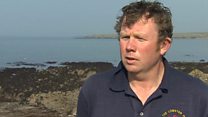 Video
Bardsey Island turbine project concerns fisherman
A tidal energy project could be developed near Bardsey Island in Gwynedd.
Local community enterprise YnNi Llyn has teamed up with Edinburgh-based Nova Innovation to explore the possibility of deploying a 3MW array of underwater turbines in Bardsey Sound.
Local fisherman Sion Williams told Newyddion 9 if the development was to be placed at the proposed site, it would "devastate the livelihoods" of many fishermen.
An YnNi Llyn spokesman said fishermen were "key to any decision" and no action would be taken without them being fully aware of the design and location.
Go to next video: Fishermen 'key to tidal project decision'