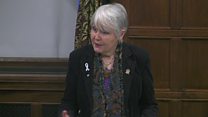 Video
Police widow pension rules 'putting a price on love'
An elderly couple are spending their "twilight years" apart because of a "petty injustice" on police pensions, a Welsh MP has said.
Bridgend MP Madeleine Moon said rules which mean some pensioners lose cash if they remarry or live with a new partner were "putting a price on love".
Police Minister Brandon Lewis said public sector pensions had to be "affordable, sustainable and fair" for taxpayers as well as scheme members.
An exception has been made in some cases where the officer died in the line of duty, but Ms Moon wants all police widows and widowers to keep their pensions regardless of any new partner.
Go to next video: 'Unfair decision for widows to make'