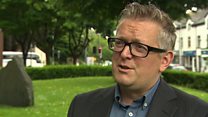 Video
Jeremy Corbyn supporter warns Labour MPs on loyalty
The "judgement and loyalty" of Labour MPs who opposed Jeremy Corbyn's leadership needs to be questioned, a member of the party's ruling body has said.
Several prominent critics - including last year's leadership challenger Owen Smith - have admitted they misjudged Mr Corbyn in the wake of a Labour surge which deprived the Tories of their majority at the general election.
The Labour leader has been urged to welcome back leading figures to his front bench team for the sake of unity.
Darren Williams, a former Cardiff councillor who sits on Labour's national executive committee, said it was right for Mr Corbyn to reach out to his critics, but said some had been very personal in their attacks on him.
Go to next video: 'We saw a different Jeremy Corbyn'