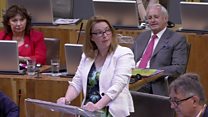 Video
Pisa education tests just part of the picture, minister says
The education secretary has said there is more to school children's performance than the results of an international test.
It follows a dispute over a Welsh Government target of 500 to be reached by 15-year-olds in the three-yearly Pisa tests, in which Wales has come lowest of the UK nations.
On Tuesday First Minister Carwyn Jones said the government was still committed to the goal, although Mrs Williams had told an assembly committee last week: "It's not my target".
It had been set before the Liberal Democrat AM joined the otherwise all-Labour Welsh Government after the 2016 assembly election.
Mrs Williams was responding to a challenge in the Senedd on Wednesday from Conservative education spokesman Darren Millar, saying Wales' Pisa scores were not good enough.
Go to next video: Pisa results - in 60 seconds