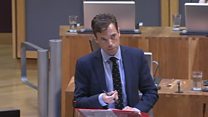 Video
Coilcolor: No payment ever promised, Ken Skates told AMs
A company that supplies panelling to Ikea and Easyjet is going into administration, with 50 people being made redundant.
Dean Proctor, managing director of Coilcolor in Newport, said the Welsh Government promised financial help after flooding last November cost the firm £3.7m in machinery and lost work.
He claimed the flooding had come from government-owned land next to his business, and that he had raised concerns about drainage before.
Last week, he claimed a two-month wait for a payment was "diabolical".
Economy Secretary Ken Skates told the Senedd last Wednesday that no "without prejudice" payment pending an insurance claim had ever been promised.
Go to next video: Redundant steel workers 'feel let down'