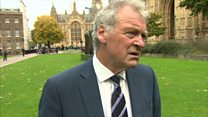 Video
Boundary revisions for MPs will collapse, says Tory MP
Proposed changes to Westminster constituencies that could see Wales' MPs fall from 40 to 29 are "crackers", Conservative MP Glyn Davies has said.
Wales would see the biggest proportional cut of the four UK nations in a plan to reduce the size of the House of Commons from 650 to 600 members.
The Montgomeryshire MP is a junior member of the government, serving as a parliamentary private secretary, but opposes its plan to cut the number of parliamentary seats.
Mr Davies said the changes did not make a "sensible allowance" for rural areas, and predicted the shake-up would eventually collapse.
Go to next video: 'Lot of support' for plans to cut MPs