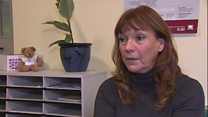 Video
'Challenges' for 30 hours free childcare pledge
A lack of nursery places means some parents will not be able to access a Welsh Government promise of 30 hours of free childcare, a report has warned.
On average two hours and 40 minutes of care is available per child, with some areas having no availability.
The Welsh Government has pledged 30 free hours a week for three and four-year-olds with working parents. It said it was working to address capacity.
Parents said they already struggled to find affordable and flexible childcare.
Wendy Powell, who runs a nursery in Flintshire, said there were challenges to overcome if the pledge was to be a success.
Go to next video: 'This is about working parents'