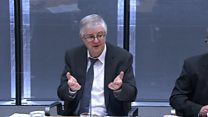 Video
Social care tax would not put people off Wales move, Drakeford says
Finance Secretary Mark Drakeford is "sceptical" about arguments that raising taxes to pay for social care would put people off moving to Wales.
An income tax increase of between 1% and 3% could be used to fund elderly social care in Wales, according to an independent report.
Prof Gerry Holtham has suggested the social care element of tax would depend on your age when you start paying.
Mr Drakeford told the Welsh Assembly's finance committee he had no concerns that a social care tax would have a negative impact on the Welsh economy.
Read more: Tax 'won't deter people moving to Wales'
Go to next video: 'Seamless' NHS and care system urged