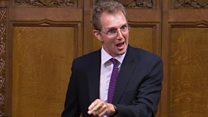 Video
Brexit: Stop the fear-mongering, says David TC Davies
Monmouth MP David Davies calls on Labour MPs and fellow Tories to back Theresa May's "practical and reasoned plan" for the UK's future relationship with the EU.
The prime minister's white paper suggesting close links outside the customs union and single market has been attacked by Brexiteers and pro-EU Conservatives alike.
Mr Davies - who backed the Leave campaign - has previously said the proposals were not perfect but were the only compromise that was workable.
As he made his call at Prime Minister's Questions, Mr Davies turned round to look at Anna Soubry, a Remain-supporting Conservative who has accused Brexiteers of willing to destroy thousands of UK jobs.
Go to next video: 'Think about impact of a Marxist government'