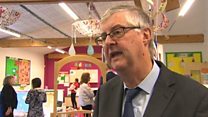 Video
Baby bundles 'can help give them the best start'
Welsh Labour leadership contender Mark Drakeford says giving families a bundle of essential items for newborn babies could help tackle poverty.
The finance secretary said he would like to launch a version of the baby box scheme introduced across Scotland in 2017.
He said a Moses basket containing clothes, books and other useful things funded by the Welsh Government would cost about £100 a time, or about £3m a year.
Mr Drakeford said it would be a "very modest way" to show Welsh Labour's commitment to giving all children the best start in life.
Read more: Baby bundle plan for newborns backed
Go to next video: UK hospital begins baby box trial