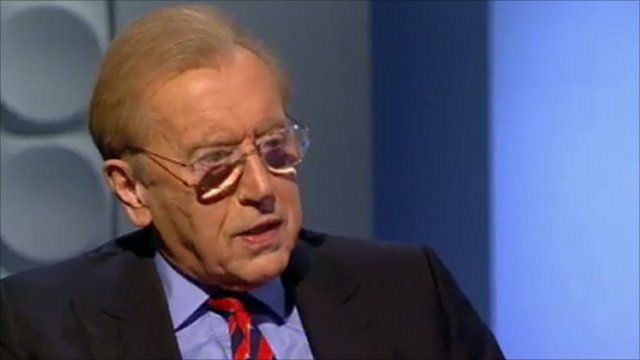 Video
Sir David Frost: 'Nixon did ask me about my shoes'
Sir David Frost, whose landmark interviews with former United States president Richard Nixon saw him apologise to the American people for Watergate, has revealed Nixon really did comment on his shoes.
The Nixon Interviews, first broadcast in 1977, gained record audiences and the high drama which surrounded them later became the subject of both a West End play and an Oscar-nominated film, where actor Michael Sheen played Sir David.
He also told Dame Joan Bakewell what happened when he met the actor, and how interviewing Nixon for a total of 28 hours and 45 minutes was the toughest point of his career.
Frost on Nixon is broadcast on Saturday at 19:00 BST on BBC Two.