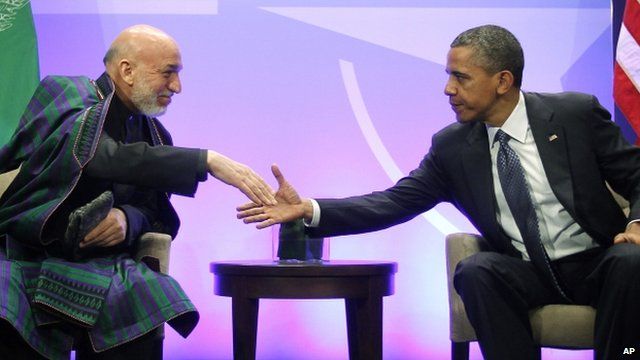 Video
Obama on Afghanistan: 'Great challenges ahead'
US President Barack Obama has said there are "great challenges ahead" but that he is confident Kabul and Nato are on "the right track" to bring security to Afghanistan.
In response, Afghan President Hamid Karzai reaffirmed his commitment to the Strategic Partnership Agreement between the US and Afghanistan which was signed earlier this month.
The 10-year accord outlines military and civil ties between the countries after the end of Nato's mission in Afghanistan in 2014.
The two leaders were speaking as Nato delegates gathered in Chicago for a summit dominated by discussions on the withdrawal from Afghanistan.
Go to next video: Nato's exit strategy in Afghanistan