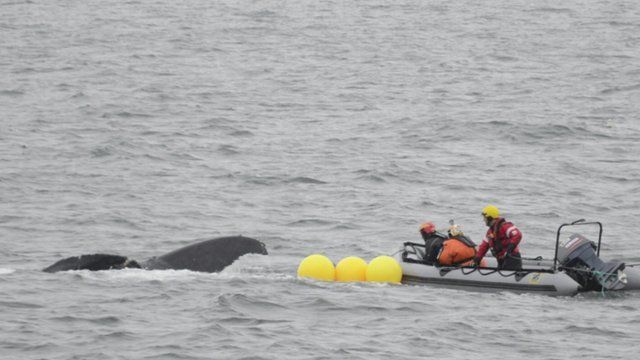 Video
Crew rescue entangled whale in freezing Icelandic waters
Would you spend your weekend grappling with a whale in freezing Icelandic waters?
One team of volunteers did just that, as they attempted to free a whale that had become entangled in fishing gear.
Working from a small inflatable boat, the four-man team pursued the humpback whale for two days before attaching a rope to the fishing gear and eventually cutting it away.
The operation was described by one of the organisations involved as the most dangerous type of rescue that they do.
Mark Stevens and Geoff Hammock, co-directors of the British Divers Marine Life Rescue, explained the rescue operation to the BBC's Lucy Hockings.
Go to next video: Whales intervene during orca hunt