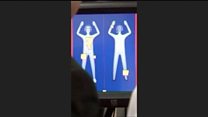 Video
A brief history of airport security
With airports once again under scrutiny after the Ataturk attack, BBC Rewind takes a look back at some of the key milestones in the evolution of airport security.
After some high profile incidents in the early seventies, X-ray screening and metal detectors were introduced for all hand-luggage and, following the 'Hindawi Affair' in 1986, passengers would be asked at check-in whether anyone could have interfered with their luggage.
Post 9/11, security measures became even more stringent with the '3-1-1 rule' and many more items are now banned from carry-on luggage.
Go to next video: CCTV footage shows Istanbul blast