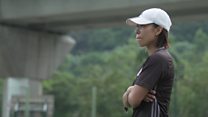 Video
100 Women 2016: Chan Yuen-ting on making football history
The Hong Kong Premier League may not be the most illustrious football competition in the world but earlier this year it made worldwide headlines after Coach Chan Yuen-ting won the title with Eastern.
She became the first woman to win a top-flight title in men's professional game.
Coach Chan spoke to the BBC for the 100 Women series about making football history.
Produced by Jonathan Wells and Zhijie Shao; filmed by Andrew Lang.
What is 100 women?
BBC 100 Women names 100 influential and inspirational women around the world every year. We create documentaries, features and interviews about their lives, giving more space for stories that put women at the centre.
Other stories you might like:
'I married a man to keep my girlfriend'
'Adults are so obsessed with children they have no time for important things'
Who is on the BBC's 100 Women 2016 list?
Go to next video: Christine and the Queens: Why I'm pansexual