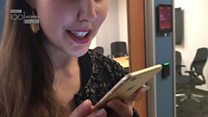 Video
100 Women: An app to help you speak up in meetings
The 100 Women Challenge team have created an app that analyses meeting dynamics as part of their efforts to smash the glass ceiling.
They were inspired by Erin Akinci, a data scientist who has trouble speaking up in meetings.
Watch as she tests the all.ai ("ally") app.
What is 100 Women?
BBC 100 Women names 100 influential and inspirational women around the world every year. In 2017, we're challenging them to tackle four of the biggest problems facing women today - the glass ceiling, female illiteracy, harassment in public spaces and sexism in sport.
With your help, they'll be coming up with real-life solutions and we want you to get involved with your ideas. Find us on Facebook, Instagram and Twitter and use #100Women
Go to next video: How to feel powerful