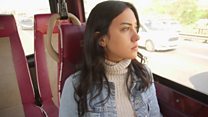 Video
100 Women: The woman attacked for wearing shorts
"I will not be limited. I will carry on wearing what I like to wear."
Earlier this year, Asena Melisa Saglam was attacked onboard a minibus in Istanbul, allegedly for wearing shorts during Ramadan.
The video footage went viral and led to national protests. Here, she tells 100 Women that it is time to speak up.
Producers: Selin Girit and Camelia Sadeghzadeh; Video Journalist: Efrem Gebreab
What is 100 Women?
BBC 100 Women names 100 influential and inspirational women around the world every year. In 2017, we're challenging them to tackle four of the biggest problems facing women today - the glass ceiling, female illiteracy, harassment in public spaces and sexism in sport.
With your help, they'll be coming up with real-life solutions and we want you to get involved with your ideas. Find us on Facebook, Instagram and Twitter and use #100Women