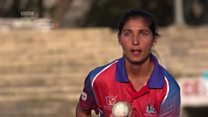 Video
100 Women: It's not a sin for women to play cricket
Cricket is the most popular sport in India but the women's version of the game doesn't generate as much interest and is frowned upon in many sections of the society.
After the brilliant performance of Indian team at this year's Women's Cricket World Cup - where they finished runners-up to England - many female players are coming forward and taking the game up professionally.
The BBC's Shalu Yadav and Varun Nayar met the female cricketers of the north Indian state of Jammu and Kashmir and asked them about their passion and the challenges they have overcome.
What is 100 Women?
BBC 100 Women names 100 influential and inspirational women around the world every year. In 2017, we're challenging them to tackle four of the biggest problems facing women today - the glass ceiling, female illiteracy, harassment in public spaces and sexism in sport.
With your help, they'll be coming up with real-life solutions and we want you to get involved with your ideas. Find us on Facebook, Instagram and Twitter and use #100Women