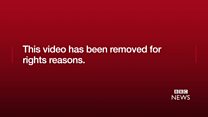 Video
Trump: 'Severe punishment' if Khashoggi murdered
This video has been removed for right reasons.
US President Donald Trump has said he would be "very upset and angry" if Saudi Arabia were found to be responsible for the death of journalist Jamal Khashoggi.
He told CBS News he would now put a halt to big military contracts, but there would be "severe punishment".
Mr Khashoggi, a critic of the Saudi government, vanished on 2 October after visiting its consulate in Istanbul.
Saudi Arabia dismissed allegations that it ordered his killing as "lies".
A Turkish security source has told the BBC that officials have audio evidence proving Mr Khashoggi, who writes for the Washington Post, was murdered inside the consulate.
Go to next video: Ambassador 'concerned about Khashoggi'