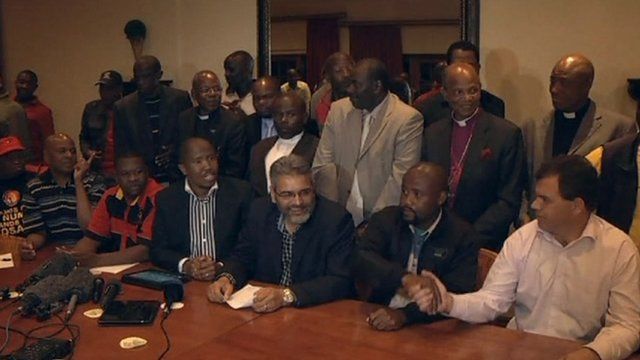 Video
South Africa mine strike: Lonmin miners to return to work
Striking miners at a Lonmin-owned platinum mine in South Africa have agreed to return to work on Thursday, after agreeing a new pay deal.
At the signing, Abey Kgotle, Executive Manager of External Affairs for Lonmin PLC, said he was "confident" that employees would honour the agreement and return to work.
The Secretary General of the Solidarity union, Gideon Du Plessis, told reporters that it was a "pity" that the resolution came "at the back of a lot of violence and intimidation". Joseph Mathunjwa, President of the Association of Mineworkers and Construction Union, added that he hoped future negotiations would be conducted "peacefully and meaningfully".
Production at the mine has been paralysed for weeks and unrest has spread to other mines. Last month, police opened fire on demonstrators at the mine in Marikana, killing 34 striking workers.
Go to next video: SA miners accept new pay deal