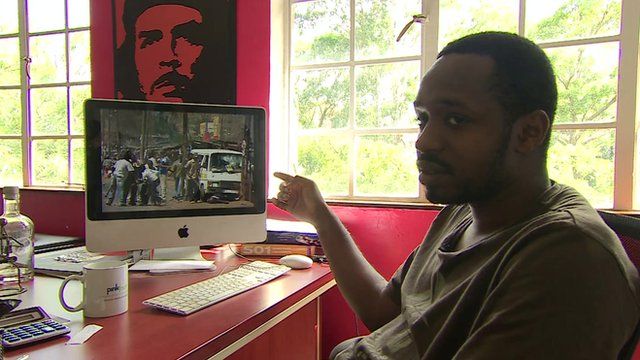 Video
Photoactivist seeking end to Kenya's tribal tensions
As a photographer for one of Kenya's national daily newspapers, Boniface Mwangi captured extraordinary images of the violence Kenyans unleashed on each other, following the disputed presidential elections in 2007.
Traumatized by witnessing the daily atrocities and depressed by the state of Kenyan politics he turned his talents to activism, setting up a creative space for activists called Pawa 254.
They are well known for their graffiti depictions of Kenyan politicians as vultures which have been spray painted on the streets of Nairobi.
Boniface says he is working towards a Kenya where politicians are held to account for what they do and where tribe is a much less explosive issue.
He lives this philosophy at home too - a husband and father of three, each child has a name which does not denote which tribe they are from.
Boniface spoke to BBC News about what inspired him to move from journalism into activism.
Video journalist: Chris Parkinson
Go to next video: 'I'm closing for the Kenya election'