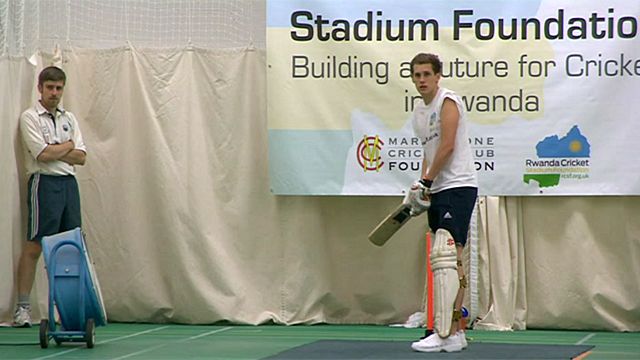 Video
Batting for 26 hours for Rwanda
At the Oval cricket ground in London, British amateur player Alby Shale has just spent 26 hours in the nets to set a new Guinness World Record for the longest ever individual cricket batting session.
Mr Shale, 22, said that his goal was to raise as much money and awareness as possible for a foundation which plans to build the first international-standard cricket stadium in Rwanda.
The sport has been gaining in popularity there since the return of many refugees from the 1994 genocide who learnt to play it in English-speaking countries such as Uganda and Kenya.
Mr Shale faced around 200 bowlers, including British Prime Minister David Cameron, one of the main supporters of the Rwanda Cricket Stadium Foundation, and BBC Africa's Peter Okwoche who bowled for the first time in his life and sent us this report.
For more African news from the BBC, download the Africa Today podcast.
Go to next video: Rwandans' new love for cricket