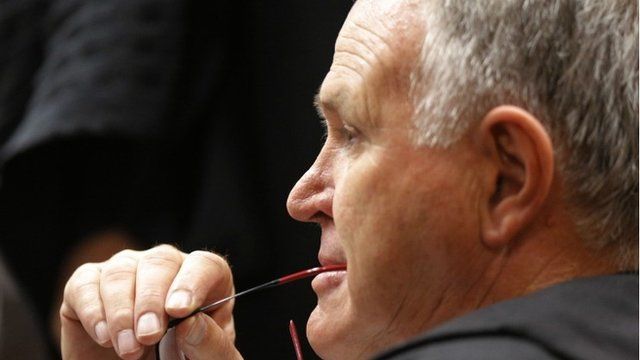 Video
Oscar Pistorius trial: Witness cross-examined
A defence lawyer in the trial of South African athlete Oscar Pistorius has proposed a "toilet test" in an attempt to prove a witness's evidence is unreliable.
Barry Roux told the court in Pretoria that Michelle Burger could not have heard Mr Pistorius' girlfriend Reeva Steenkamp screaming on the night she died, because she lived 177m away and that Ms Steenkamp was in a closed toilet cubicle.
Ms Burger - whose face could not be shown - claims she heard "blood-curdling" female screams on February 14 2013, and then "heard four shots".
State prosecutors allege the killing was premeditated, but Mr Pistorius claims he mistook his girlfriend for an intruder.
Go to next video: Pistorius trial day one - in 90 secs