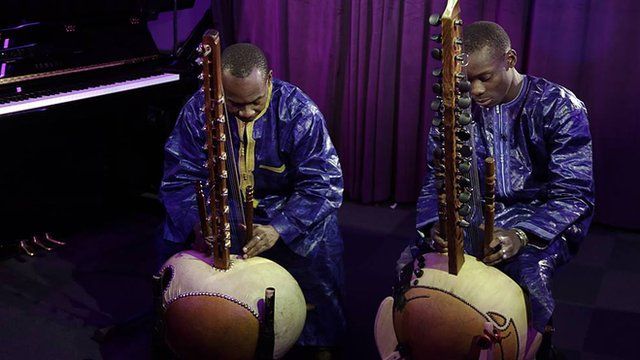 Video
Mali kora duets from Diabate father and son
The man considered the world's greatest living kora player, Mali's Toumani Diabate, has joined forces with his son Sidiki and together they are touring to promote their first album.
"Toumani and Sidiki" is a set of unaccompanied kora duets recorded as live in London. As well as traditional kora pieces there is one newly composed track entitled Lampedusa - a lament for those who have died struggling to reach Europe from Africa.
The Diabates are known as griots and their family's traditional role going back 72 generations is to preserve oral history through music and praise-singing. Sidiki is also a hip-hop star making up one half of a duo with rapper Iba One.
Toumani and Sidiki have been talking to the BBC's Jenny Horrocks about their experience of playing together.
For more African news from the BBC, download the Africa Today podcast.
Go to next video: Breathing new life into Mali's music