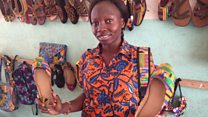 Video
Women of Africa: Ghana shoemaker invests in disabled artisans
Ghanaian student Mabel Suglo runs Eco Shoes, a forward-thinking social enterprise which turns old tyres and scraps of Africa fabric into stylish footwear and accessories.
The company, based in Kumasi, employs both able-bodied and disabled artisans to make its shoes and bags.
Ms Siglo and two friends were inspired to start the business to challenge local perceptions of disabled people as burdens to society.
Women of Africa is a BBC season recognising inspiring women across the continent. The second series, Africa's New Businesswomen, introduces eight female entrepreneurs who are finding success in their country - and beyond.