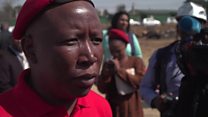 Video
South Africa elections: EFF delivers blow to ANC over city mayors
South Africa's radical Economic Freedom Fighters (EFF) party has said it will vote with the opposition Democratic Alliance (DA) in its bid to take control of key cities from the governing African National Congress (ANC) following local elections earlier this month.
This opens the way for the cities to have a non-ANC mayor for the first time since apartheid ended in 1994. However, EFF leader Julius Malema refused to enter into any coalition agreement with the DA or the ANC.
DA leader Mmusi Maimane said it could pave the way for coalition politics at a national level in the future. The BBC's Milton Nkosi reports from Johannesburg.
Go to next video: South African election results explained