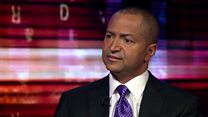 Video
Katumbi: Kabila 'scared' of my return to DR Congo
Moise Katumbi is a leading opposition politician from the Democratic Republic of Congo.
He is currently in exile in Europe since he was convicted of illegal property selling and sentenced to three years in prison, in absentia.
He denies he did anything wrong and says he still wants to run for president at the next election in DR Congo, which is due to take place in 2017 or 2018.
An election scheduled for last November was postponed and Moise Katumbi tells HARDtalk's Zeinab Badawi he wants to go back "as quick as possible"
He says current President Kabila "is scared today for my return" since "his mandate is finished".
You can see the interview in full on Tuesday 7 March on BBC World News and the BBC News Channel and later on BBCiPlayer.
Go to next video: At least 20 killed in Congo protests