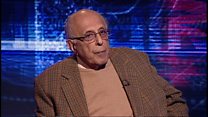 Video
Ahmed Kathrada on apartheid
Ahmed Kathrada, one of the big names of South Africa's anti-apartheid struggle has died at the age of 87.
He was sentenced to life in prison alongside Nelson Mandela on Robben Island, spending 26 years locked up.
On their release, Nelson Mandela persuaded him to join him in government - an experience he did not like. But he never stopped campaigning for the ideals of freedom on which the anti-apartheid movement was based.
In an interview for the BBC's Hardtalk in 2014, he told Sarah Montague he was fully aware of the price he had to pay in going to prison.
He also spoke of his experiences as a child being refused from both white and black schools and having to go to a school that accepted him in Johannesburg hundreds of miles away from his home town.
Watch more clips at HARDtalk's website
You can see the full interview on Wednesday 29 March 2017 on BBC World News and the BBC News Channel and after on BBC iPlayer (UK only).
Go to next video: Kathrada: I can never be anti-Jewish