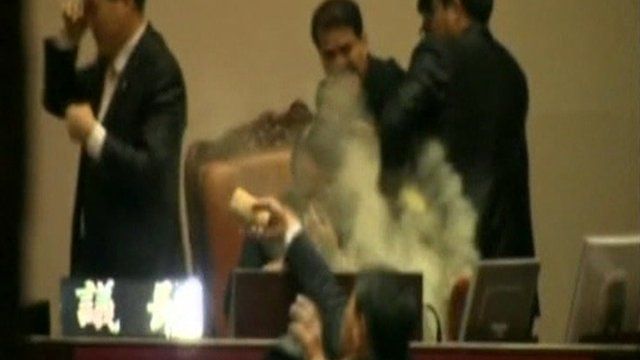 Video
Tear gas thrown in S Korea parliament as US trade deal ratified
A politician has set off a tear-gas canister in South Korea's parliament, shortly before a free-trade deal with the US was ratified.
Politicians were seen wiping their eyes after being doused with the chemical.
Members of the ruling Grand National Party, which has a majority, convened to force the bill through in a 151-7 vote.
It follows years of wrangling over the issue. Most of the opposition abstained.
The deal is expected to increase US exports to South Korea by as much as $10bn (£6.5bn).
But South Korean farmers and some workers oppose the deal, saying it threatens their livelihoods and favours US workers.
Go to next video: Korean graduates 'lack jobs'