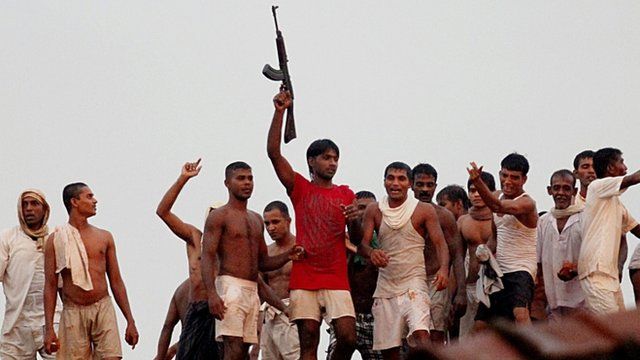 Video
Eyewitness describes seeing clashes at Sri Lanka jail
At least 27 people have died in clashes between inmates and guards at Sri Lanka's Welikada prison in the capital Colombo, authorities say.
The violence started when police commandos arrived at the prison to provide security whilst prison officers searched for illegal items.
Gunfire broke out after some prisoners seized weapons.
A man who owns a shop across the street from the jail described seeing prisoners throw stones at police officers.
Next, he said, "the police fired tear gas, the inmates came out of the entrance and attacked. When they were fleeing, police fired at them. We took cover to protect ourselves."
He added, "an army officer got shot, another person who got shot in his leg fell down".
Prison authorities say the situation is now under control, but a government minister said a search for escaped prisoners was under way.
Go to next video: Fatal clashes at Sri Lanka prison