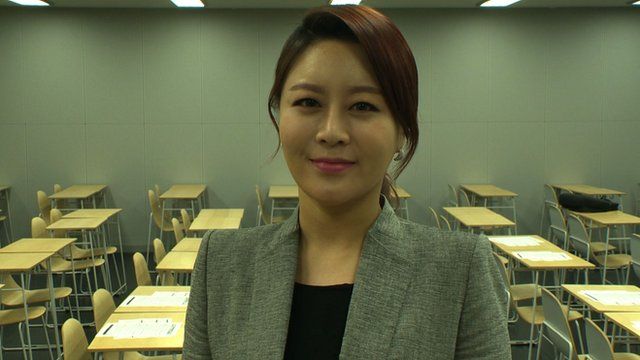 Video
The half a million dollar teacher
Gwen Lee is a South Korean teacher who earns $500,000 (£317,000) a year. In an economy with a thirst to learn, she has turned herself into a business.
She teaches English to 1,000 people a month in classrooms and to 200,000 people online. Such is the demand for her lessons that she gets inquiries from China.
Koreans - and clearly some Chinese - see English as a passport to a better job so she is in demand.
Her staff includes a chauffeur who ferries her in a classic black town car between the classroom and her office in the business district of Gangnam.
Her assistants field inquiries on the internet. One section of her office has been turned into a television studio where she and her cameraman record each week's online lessons.
She is, in effect, a brand and so image is important. So she starts her day at 07:30 with a hair and make-up artist. Through the day, she freshens her make-up 10 times.
Her day is a relentless public performance. She sometimes wonders which is the real person - the confident public persona that is constantly behind the mask of make-up or some other, more private person.
"When I am at home, I think about lots of things. And I think, 'Why do I have to be in front of all these people and be successful? What am I trying to do? What am it trying to show?'
"And all of a sudden, I feel so empty and I think, 'Am I doing the right thing?'
"But the moment I put on my make-up and stand in front of all the students in my class, I feel confident and sometimes I feel comfortable. I think both of them are me."
Go to next video: Serving in another country's army