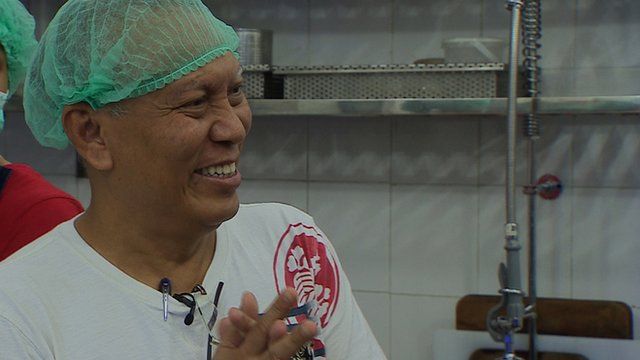 Video
Working Lives Yangon: Deli chief
Having spent his formative years abroad Ye Htut Win or Sharky, as he is better known, developed a passion for European delicacies.
In the mid-1990s he challenged himself to return home and make them. He employed farmers on the outskirts of Yangon to grow vegetables which he then sold to the city's hotels.
Later, he tried replicating western dishes.
"I've always believed that good food has a power, a magic that can bring joy," he says.
Shielded by the cocoon of sanctions and Myanmar's pariah status Sharky was able to hone his skills as a farmer, gourmet cheese-maker and baker.
"The country was isolated, it was literally lockdown so I had no competition." he says. "Literally you could do what you want. As long as it was not politics."
But with the country opening up and the number of tourists rising each year Sharky is now reaping the rewards.
He is about to open his fourth branch, on the iconic Pansodan street in downtown Yangon.
He believes that whatever happens politically, the Myanmar's economic transformation is irreversible.
"I think the genie is out of the bottle", he says. "During this period whoever governs the country jobs have to be provided, futures have to be provided for, and I do believe that you cannot stop it anymore."
Go to next video: Working Lives Yangon: Internet entrepreneur