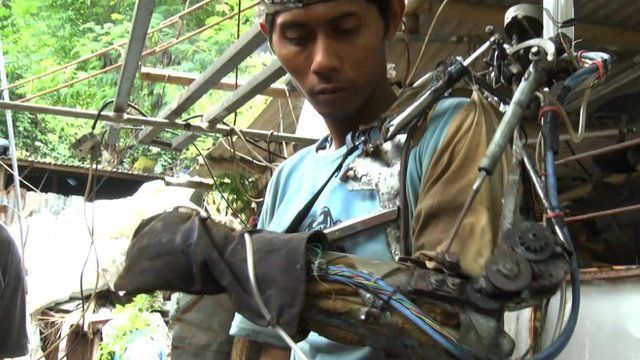 Video
'I've been obsessed with machines since I was a child'
I Wayan Sumardana, a 31-year-old welder in a small village in Bali, has been dubbed "Iron Man" by Indonesian press after he claimed to have made a bionic arm out of junk at home.
He says the "bionic arm", which he made from scrap metals, a lithium battery and electrical components, reacts to signals from his brain.
Mechanical experts have cast doubt on the machine, querying how it could recognise a command without computer programming.
However, Mr Sumardana's fellow villagers remained enthralled by the mystical aspect of his story.
Read more: The man who built an arm out of scrap metal
Go to next video: Open Bionics shows off its robot arm