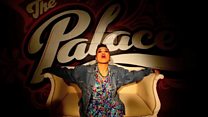 Video
Parris Goebel: The woman changing hip hop
Most famous for her video for Justin Bieber, Parris Goebel has gone from suburban New Zealand girl to global dance and style icon.
It all began with polyswag - her unique take on hip hop inspired by her Polynesian heritage.
The BBC profiles her as part of a series on Asian women likely to make the news in 2017.
Video by Mauricio Olmedo-Perez and Saira Asher. Footage provided courtesy of Parris Goebel.
Read about the other women to watch:
Deepika Bhardwaj: The woman who fights for men's rights
Leila de Lima: The woman who dares to defy a president
Regina Ip: Hong Kong's controversial 'Iron Lady'
Go to next video: 'Hip hop was before ballet for me'