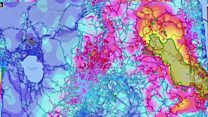 Video
Checking radiation levels in the Fukushima area
The name Fukushima will always be associated with the earthquake and tsunami in 2011, causing a triple meltdown at the city's nuclear power station.
An exclusion zone remains in place around the nuclear site as thousands of workers continue clean-up efforts.
Before 2011, the area was known as a tourist attraction particularly for skiers looking to get the most out of the slopes.
Tourist numbers fell sharply after the disaster but now many are returning. The ski slopes are quite a distance from where the tsunami struck, but radiation levels are constantly monitored to reassure visitors to the area.
BBC Travel Show's Carmen Roberts went to find out more.
Find out more @bbctravelshow