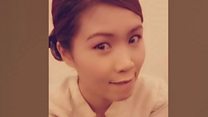 Video
Jailed for years for Thai king insult
The United Nations has called on Thailand to amend the harsh law against insulting the monarchy. The Office of the UN High Commissioner for Human Rights said it was deeply troubled by the high rate of prosecutions, and the disproportionate sentences for the offence.
It says that since the military coup in 2014 the number of people investigated for violating the lese-majeste law has risen to more than double the number investigated in the previous 12 years.
The BBC spoke to the mother of Sasiwimon, who was jailed for 28 years after being found guilty of posting anti-monarchy content on Facebook. She was reported to the police by another Facebook user.