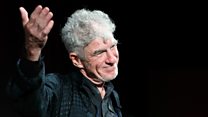 Video
Christopher Doyle: What does a cinematographer do?
Christopher Doyle, one of the most highly acclaimed cinematographers in the world right now. He has created award-winning visuals for epic productions like In the Mood for Love, Chungking Express and Hero.
He is Australian-born but has been based in Hong Kong for three decades, working mostly in Chinese language films.
We went to meet him on the set of his latest production - The White Girl, his own film that he has co-written and co-directed with Jenny Suen. It is something of a love letter to Hong Kong, the place he now calls home.
Hear more from Christopher Doyle on In The Studio from BBC World Service.
Go to next video: Drawing a modern Khoisan-inspired mural