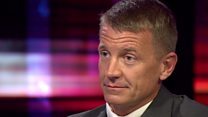 Video
Ex-Blackwater CEO's plan to end the war in Afghanistan
The founder and former head of the Blackwater private security firm, Erik Prince, has said he believes private security contractors are key to ending the war in Afghanistan.
Speaking to BBC Hardtalk's Stephen Sackur, Mr Prince said he had produced a plan that would see troops replaced with private military contractors who would work alongside Afghan forces under a special envoy that reported directly to the US president.
The role of defence contractors in warfare sparked international debate after the killings in Baghdad's Nisoor Square in 2007.
Since the US-led invasion in 2001, Afghanistan has never been as insecure as it is now, with the Taliban controlling more territory than at any point since their removal of their regime 17 years ago.
Mr Prince is now executive director at the Frontier Services Group.
Watch the full interview on BBC iPlayer (UK only)