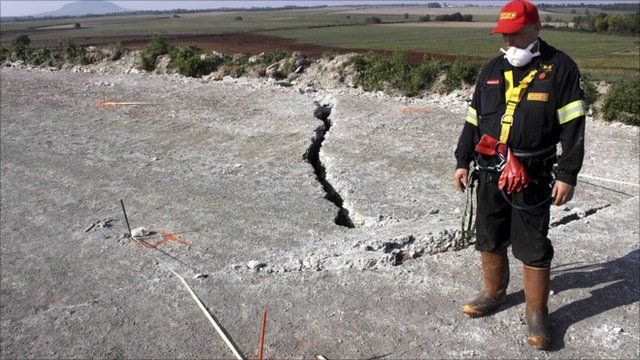 Video
Protective ring built to beat new toxic sludge spill
A protective ring of rock and earth is hurriedly being built to try to beat the expected next torrent of toxic sludge in Hungary.
Seven people were killed and 150 people were injured after up to 700,000 cubic metres (24.7m cu ft) of the toxic aluminium by-product burst from the reservoir near Ajka in western Hungary on 4 October.
Environment State Secretary Zoltan Illes said on Sunday the collapse was inevitable.
Cracks in the Ajka reservoir make a new burst "inevitable". It is hoped that the protective ring of rock and earth, 600m long and 30m thick, which is being built across the fields just below the reservoir, will contain any new spill.
Go to next video: Hungary races to build up new dam