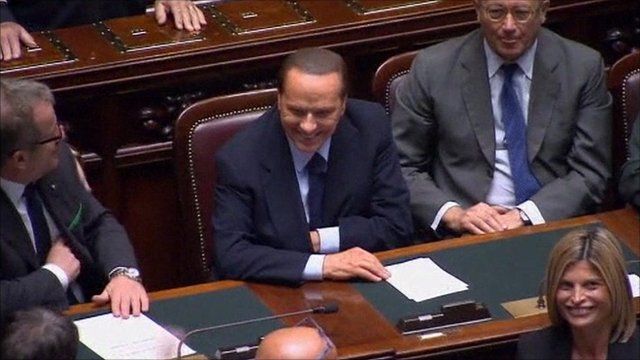 Video
Silvio Berlusconi wins confidence vote
Italian Prime Minister Silvio Berlusconi has won a key confidence vote in parliament, sparked by questions over his handling of the economy and personal scandals.
Mr Berlusconi won the vote in the lower house by 316 vote to 301.
Italy's government credit rating was recently downgraded and parliament failed to back a key part of the budget this week, triggering the vote.
Mr Berlusconi also faces trial on sex, bribery and abuse of power charges.
The outcome of the vote was in doubt until the last minute - even some of Mr Berlusconi's own MPs were expressing uncertainty.
Go to next video: Berlusconi faces confidence vote