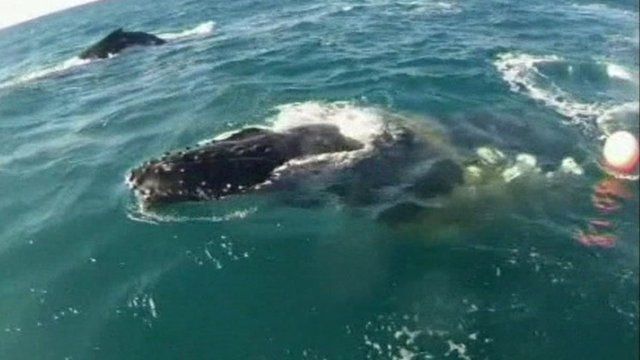 Video
Whale freed from shark net off Australia's Gold Coast
A humpback whale has been rescued after it became entangled in shark nets off Australia's coast.
The alarm was raised by a tourist who spotted the young whale in trouble just 300 metres from the beach.
"Out of the corner of my eye I noticed one in just behind the breakers and I thought that's a bit strange," Ben Barlow told Australian television Channel 7.
Rescue crews trying to cut the animal loose had to be careful of three large male whales who were trying to protect the trapped mammal.
But after two hours "we were able to go in and manoeuvre ourselves close to the animal and to make the cuts of the main line to be able to get the animal away," said Sea World Rescuer Trevor Long.
Go to next video: Dolphin rescue in Brazil is internet hit