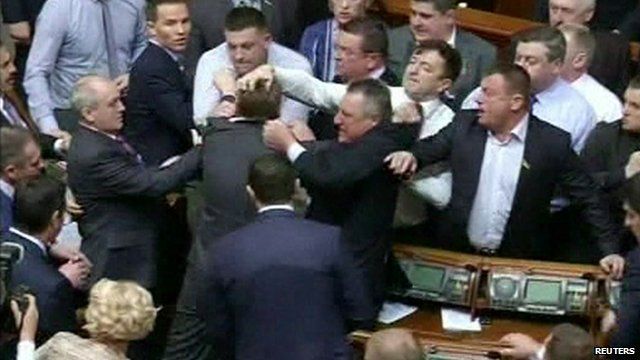 Video
MPs throw punches in Ukraine parliament brawl
Ukraine's parliament was suspended for a short period after fighting erupted between MPs from the president's party and a far-right opposition faction, over a speech made in Russian.
Clashes broke out when the parliamentary leader of President Viktor Yanukovich's Party of the Regions, accused deputies from Svoboda of being neo-fascists after they booed a speech he made in Russian.
The Party of the Regions is favoured by Russian-speaking Ukrainians in the east and south of the country while Svoboda has its power base in western Ukraine, where Ukrainian dominates.
Speaker Volodymyr Rybak could be heard shouting "Stop it. What are you doing" and "Calm yourselves".