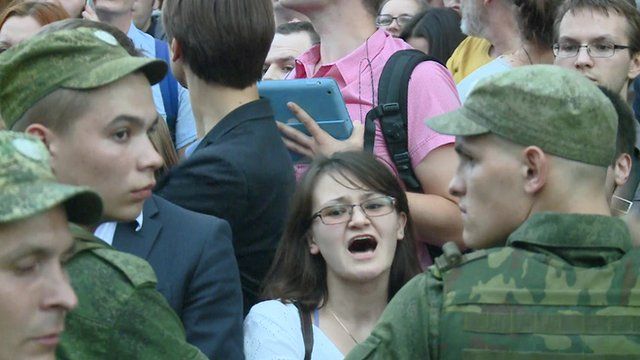 Video
Impromptu protest outside Kremlin following Alexei Navalny verdict
The conviction and jailing of Russian protest leader Alexei Navalny has led to widespread criticism.
Navalny was imprisoned for five years for embezzlement from a timber firm. He had denied the charges, saying the trial was politically motivated.
The EU said the verdict posed "serious questions" about Russian law, while the US said it was "deeply disappointed".
In Moscow, about 5,000 protesters were met with a large police presence, and scuffles broke out.
In Kirov, where the trial was held, at least two Navalny supporters were arrested following scuffles with the police after the verdict and sentence were announced.
Daniel Sandford reports.
Go to next video: Russian opposition activist guilty