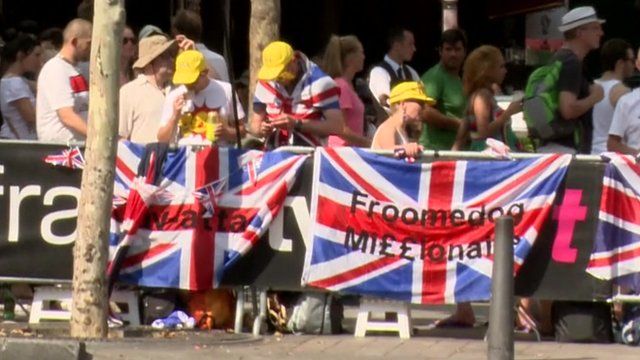 Video
British fans watch Chris Froome Tour de France victory
British cycling fans have taken to Paris streets as Chris Froome rides into the city as the leader of the Tour de France knowing that, barring an accident, he will win the 100th edition of the race.
Ahead of the finale, which is traditionally a ceremonial procession into Paris for the champion, Froome has already cycled more than 3,000km (almost 2,000 miles) through the high Alps and Pyrenees, winning three stages and building a lead of more than five minutes after spending more than 80 hours in the saddle.
The 28-year-old Kenya-born Briton has been with Team Sky since its inception for the 2010 season.
Christian Fraser spoke to some fans at the Champs-Elysées, where the race will end.
Go to next video: Inside the Manchester Velodrome