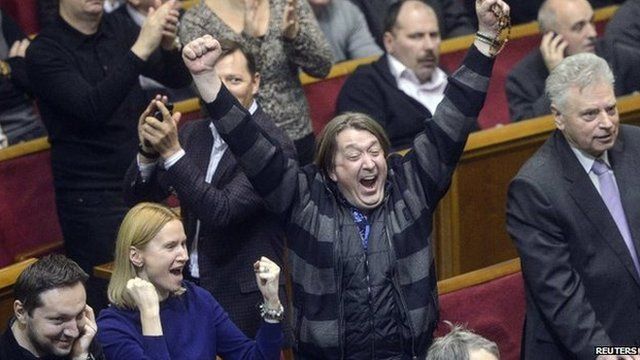 Video
Ukraine crisis: MP on parliament's 'historic day'
Ukrainian President Viktor Yanukovych and opposition leaders have signed a deal leading to an early presidential poll.
Shortly after they signed the peace deal, MPs voted in parliament to return Ukraine to its 2004 constitution, switching power from the president to parliament.
They also approved an amnesty for protesters accused of violence, voted to dismiss Interior Minister Vitaliy Zakharchenko, and voted for a change in the law which could lead to the release of jailed former Prime Minister Yulia Tymoshenko, an arch-rival of Mr Yanukovych.
Opposition MP, Andriy Shevchenko, describes the atmosphere from the parliament floor.
Go to next video: Georgia's 'concern' over Ukraine